December 28, 2021
Hidden Gems in Baltimore
Of course, some of the most popular destinations in Baltimore include the Inner Harbor, National Aquarium, and Maryland Science Center. But there are also so many hidden gems throughout Charm City which are equally exciting to visit. From parks, to restaurants, to one-of-a-kind tourist attractions, you're sure to find something that piques your interest anywhere you go. Here are the 15 best hidden gems in Baltimore, Maryland.
Papermoon Diner
This quirky, colorful, distinctive diner is a beloved Baltimore restaurant offering unique eats as well as classic diner fare. Papermoon Diner became an instant favorite when it opened in 1994. The décor includes a collection of Pez dispensers, ceiling art made of Matchbox cars, wall hangings reminiscent of Andy Warhol paintings, and mannequins – lots of mannequins. It's a must-see on your tour of Baltimore hidden gems!
Graffiti Alley
Adding graffiti to a city structure is usually considered a criminal offense, but not at Graffiti Alley! A true Baltimore hidden gem, the space allows local artists to make their colorful mark without repercussions. Every inch of the L-shaped alley is covered with graffiti which changes on a near-weekly basis, and it's well worth the trip for a peek at this distinctive display of community art.
Walters Art Museum
Located in the heart of one of the most charming neighborhoods in Baltimore – Mount Vernon Historic District – the Walters Art Museum is home to exhibits and installations, performances, lectures, celebrations, family activities, and so much more. The mission of the Walters has always been to connect the local community with the beauty of art and the joy of discovering something new – at no cost to the visitor. It's sure to be a favorite hidden gem in Baltimore!
Jones Falls Trail
The first portion of the 11-mile Jones Falls Trail begins at the Inner Harbor and offers views of historic architecture and city skyline as it proceeds north out of the downtown area. The second and third portions are a little less urban. They pass by spots like the Cylburn Arboretum and the Maryland Zoo, making a walk along the Jones Falls Trail not just a great opportunity to get outside in Baltimore, but a way to see some of the most notable sites in town.
Annabel Lee Tavern
Named for the final published work of Edgar Allen Poe, Annabel Lee Tavern is the definition of a Baltimore hidden gem. The space has a cozy, yet perhaps slightly eerie vibe totally befitting of its namesake, and the eclectic menu is upscale without being pretentious. You won't want to miss this local favorite.
Edgar Allen Poe's Grave
And while we're on the topic of the poet for whom many famous Baltimore landmarks are named – including the town's beloved NFL team – visiting Edgar Allen Poe's grave is a must for anyone on the hunt for hidden gems in Baltimore. Appropriately, there is a dramatic saga attached to his tombstone and a bit of mystery surrounding an annual visitor to his gravesite, both of which make this an even more interesting spot to add to your list.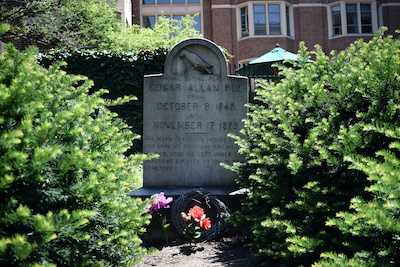 George Peabody Library
The striking interior of the George Peabody Library is like nothing you've ever seen. The iconic building opened to the public in 1878 as part of a gift bestowed upon the city of Baltimore by the philanthropist of the same name. While the building's exterior is quite beautiful, you'd never guess that this dramatic architecture exists inside, making it a true hidden gem in Baltimore.
c at the Maryland Center for History and Culture
This museum is a local favorite in and of itself. But what earns it a spot on our list of top Baltimore hidden gems is the 18' statue of former RCA "mascot," Nipper the Dog and his victrola, which sits atop the museum's entrance. The history of this statue makes for a great story, and getting a peek at it makes for a great reason to visit the Maryland Center for History and Culture.
Sherwood Gardens
In addition to flowering dogwoods, cherries, wisteria, and magnolias, approximately 80,000 tulips bloom on the grounds of Sherwood Gardens every Spring. At it's most vibrant between late April and early May, this six-acre garden is open during daylight hours to anyone who'd like to visit.
Baby's on Fire
Baby's on Fire is part record store, part coffee shop, and 100% Baltimore hidden gem! With a carefully curated selection of new and used vinyl in every genre you can imagine, this cozy little spot serves up delicious fare along with musical conversation and the perfect cup of joe. Make your trip to Baby's on Fire early in the day, though, as they are only open for breakfast and lunch.
Foraged.
For a different type of farm-to-table dining, visit this Baltimore hidden gem. Restaurants abound in Baltimore, but Foraged is truly one-of-a-kind. Of course, every menu item is comprised of seasonal, local offerings. But what sets this spot apart from the rest is that many ingredients are foraged by chef-owner Chris Amendola, himself. That's right. When he's not in the kitchen, Chef Amendola is in the woods finding inspiration for his next dish. If you love restaurants with a unique take on fresh food, this hyper-seasonal eatery is right up your alley!
R. House
This food hall has become more than just a place to grab a bite. It's an open-air gathering place full of scrumptious eats and future friends. There are ten food stalls at R. House, each of which draw inspiration from Baltimore and around the world. From tacos to Korean BBQ to soul food, there's something for everyone at this unique spot.
Federal Hill Park
Calling this one a hidden gem in Baltimore might be a bit of a stretch, as there's nothing hidden about a park which takes up more than ten acres of Inner Harbor shoreline. But that doesn't mean you shouldn't add it to your list of places to visit while you're in town. Federal Hill was discovered by Captain John Smith in 1608, and Federal Hill Park is a signature Baltimore landmark with stunning views of the city you can't find anywhere else.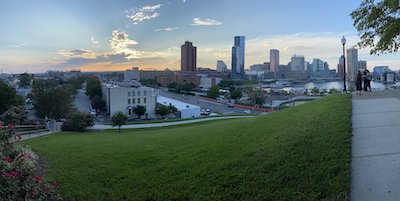 Ministry of Brewing
Inside the original St. Michael's Church, you'll find a neighborhood brewery called Ministry of Brewing. This hidden gem is a relatively new addition to the Baltimore craft brew scene, and the combination of church and brewery isn't something you're likely to find anywhere else. Stop in to sip their creative concoctions while surrounded by some of the most exquisite architecture in Baltimore.
Charlotte Elliott and the Bookstore Next Door
Part antique shop and part used bookstore, every corner of this hidden gem in Baltimore is filled with something spectacular. Owner Charlotte Elliott loves curious finds from all around the world, and it shows in the carefully curated selection of items available for purchase in her storefront. Whether you're in search of literature, vintage clothing, antique décor, or quirky conversation pieces, you're sure to love Charlotte Elliott and the Bookstore Next Door.
Reserve Your Stay Near Baltimore, Maryland
Ready to visit? The Hotel at Arundel Preserve offers easy access to all of Baltimore, even the attractions which are off the beaten path. Our luxury accommodations are the perfect place to relax and recharge after a day spent visiting some of these favorite Baltimore hidden gems. Contact us today to book your stay and enjoy all that Charm City has to offer.