October 17, 2023
8 Haunted Sites in Maryland
Home to centuries of history (and the home of Edgar Allen Poe's grave) Maryland boasts no shortage of spooky places. From shadowy figures in historic homes to restless spirits wandering battlefields, these sites will surely bring a chill to your spine.
Whether you're a skeptic or a ghost hunter, here are eight of the most haunted places in Maryland for you to explore… if you dare! 
The 8 Most Haunted Places to Visit in Maryland
If you're ready for a paranormal adventure, check out one of these famously haunted Maryland sites.
1. Point Lookout Lighthouse
Originally built in 1830 by John Donahoo, the Point Lookout Lighthouse is considered one of the most haunted spots in Maryland. The area where the lighthouse sits has a history that almost guarantees haunting: it's served as a prison, a Civil War hospital, a hotel and a Revolutionary War lookout. 
Since it was built, visitors have claimed to see the ghosts of a pox-ridden Civil War soldier or a lost old woman. Some have also claimed to see the specters of wounded Union soldiers or have captured eerie voice recordings. 
As of October 2023, only the grounds of the Point Lookout Lighthouse are open to the public. The lighthouse itself is closed for now. Check their website for information on when it will reopen.
2. Fletchertown Road in Bowie, MD
Fletchertown Road in Bowie, Maryland, is home to the legend of the Goat Man, a creature supposedly born from an experiment at the nearby Department of Agriculture Research Center. The mythology holds that the Goat Man escaped and has been terrorizing citizens ever since. 
This ghastly fusion of man and beast was known for a murderous spree in the 1950s and 60s, wielding an axe and eating his victims. Reports still trickle in of sightings — sometimes a goat-headed specter and sometimes a ragged figure in the shadows. Witnesses speak of bloodshot eyes and grimy attire. 
3. Dr. Samuel A. Mudd House
In Waldorf, Maryland, stands the home of Dr. Samuel A. Mudd, a house connected to one of the most infamous moments in American history. Here, Dr. Mudd sheltered John Wilkes Booth after Booth assassinated President Abraham Lincoln. 
Unaware of Booth's crime, Dr. Mudd tended to his broken leg, causing him to be accused of complicity in Lincoln's assassination. Dr. Mudd faced imprisonment until his wife Frances'determined efforts secured a pardon from President Andrew Johnson.
Now a museum, visitors and staff report sightings of Dr. Mudd's ghost, as if duty still binds him to the property. On occasion, an indentation forms on the bed where Booth once rested as if his spirit lingers there still.
Adding to the spectral tales, the presence of Mrs. Frances Mudd is said to haunt the premises. Witnesses attest to unexplained voices and electric candles flicker to life during Civil War reenactments. 
The museum is open from Spring to Fall on Wednesdays and Saturdays from 11 a.m. to 4 p.m. and Sundays from 12 p.m. to 4 p.m. Reservations are not required. Admission is free for children 5 and under, $3 for children aged 6-12 and $10 for everyone 13 and older.  
4. Maryland State House
With a legacy dating back to 1772, the State House, serving as the seat of Maryland's legislature, also harbors a spectral dimension. A Revolutionary soldier is said to roam the grounds alongside the lingering spirit of Thomas Dence, a plasterer who fell from the dome. Visitors claim to have seen glimpses of Dence's wandering apparition on the grounds and within the building.
The building also houses the room where George Washington resigned his commission as Commander-in-Chief of the Revolutionary Army, thus officially ending the American Revolution. This room is considered the eternal home of a presence whose identity remains unknown. 
The Maryland State House is open to the public year-round from 8:30 a.m. to 5:30 p.m. except Christmas Day and New Year's Day. Visitors are welcome to enjoy self-guided tours for the chance to see one of the building's eternal residents.
5. Glenn Dale Hospital
The Glenn Dale Hospital in Maryland, established in the 1930s to combat tuberculosis, harbors a dark history. Adults and children alike sought solace within its walls. Sinister tales of suffering and inhumane treatments cast a long shadow over its past and in 1984, the hospital closed.
Recent explorers of the abandoned facility recount experiencing chilling phenomena: echoes of eerie sounds, from cries to laughter and even the scent of burning flesh. Apparitions of patients and dogs have been reported. Yet, the most heartrending tale centers on a man in a straightjacket who, burdened by guilt, took his own life after witnessing a family tragedy. 
The property is currently owned by the Maryland-National Capital Park and Planning Commission. The building is not open to the public so you can't go inside but you can still walk around the perimeter. 
6. Jonathan Hager House
The Jonathan Hager House Museum, also known as "Hager's Fancy," traces its origins back to the mid-18th century. Jonathan Hager, the founder of Hagerstown, built this house, utilizing it as a residence, trading post and frontier fort. The passage of time saw the house change hands, eventually falling into disrepair before its restoration and subsequent deeding to the city.
With nearly three centuries of existence, the house is said to be inhabited by the spirits of at least 13 persons. Curators and tour guides have recounted a range of paranormal occurrences, from disembodied voices to objects moving of their own accord. 
In the cellar, echoes of footsteps and the sound of heavy items being dragged across the stone floor add to the eerie atmosphere. The nursery is particularly active, with a rocking chair and cradle swaying without human intervention, accompanied by unexplained temperature fluctuations. 
Visitors have reported encounters with various apparitions. These include a little girl, a lady in green (often glimpsed by the window or as a fleeting flash in the hall) and a man dressed in black. They've been seen both within the house and elsewhere in City Park. The presence of ghostly children is believed to influence the movement of a corn-cob doll and camera malfunctions within the residence. 
Jonathan Hager House is open Fridays and Saturdays, April 7 – October 14, from 10 a.m. to 4 p.m. Tours are given every hour, no reservation necessary. Admission is free for children 5 and under; $3 for children aged 6-12; $4 for seniors 65+, students 13-17 and military, all with ID; and $6 for adults.
7. Antietam Battle Field
The Antietam Battlefield in Sharpsburg, Maryland, is a somber testament to one of the deadliest conflicts in American history. On September 17, 1862, General Robert E. Lee's Confederate Army clashed with General George McClellan's Union forces, resulting in over 23,000 casualties. 
This encounter, known as the Battle of Antietam, remains etched in American history as the bloodiest single-day battle in the Civil War. The landscape is punctuated by sites like Bloody Lane, the Cornfield and the stone bridge over Antietam Creek — locations of some of the fiercest combat during the battle. 
Visitors have mentioned having unsettling experiences, from feeling watched to hearing phantom gunfire and drumming. Some even claim to have seen ghost soldiers reenacting the battle, only to vanish before their eyes. The battlefield, now under the stewardship of the National Park Service, stands as one of Maryland's most haunted locales.
The Antietam Battlefield Visitor Center is open year-round from 9 a.m. to 5 p.m. except for Thanksgiving, Christmas Day and New Year's Day.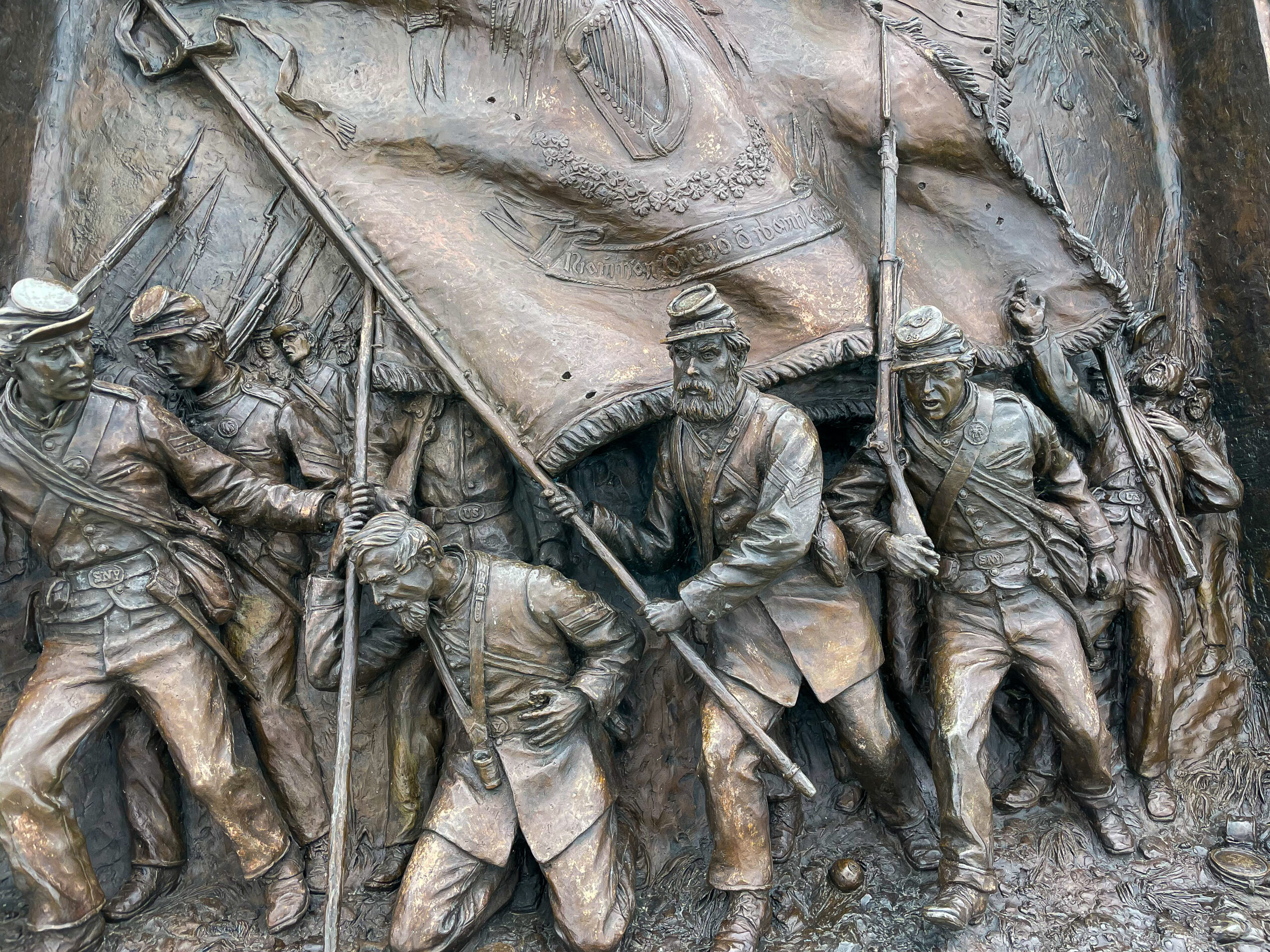 8. Lord Baltimore Hotel
Lord Baltimore Hotel, opened in 1928, is famous for its paranormal encounters. Guests have recounted eerie experiences, from unsettling dreams to feeling a spectral presence while asleep. Some even claim to have been touched by unseen hands in the elevator and lobby. 
The elevator's peculiar behavior is a common tale; it frequently ascends to the 19th floor unprompted. Here, guests have reported seeing a little girl in a cream-colored dress clutching a red ball. Guests claim the girl is usually crying, rocking or screaming. 
The hotel also carries the tragic tale of a married couple in formal wear, driven to a tragic end by the 1929 stock market crash. Many, including hotel staff, believe these lingering spirits to be the same ones guests encounter today. 
The Hotel at Arundel Preserve is Your Home Base for Ghost-hunting
After a long day of exploring Maryland's spookiest sites, the Hotel at Arundel Preserve provides a distinctly scare-free experience with our comfortable guest rooms and relaxing amenities. Contact us to learn more or book your stay today!