June 11, 2021
14 Best Waterfront Restaurants in Baltimore, Maryland
Many of the most iconic Baltimore neighborhoods are situated on the Inner Harbor and various inlets of the Patapsco River, a fact that has certainly contributed to the town's unique appeal. With so much space along the water, it's no wonder there are so many charming options for waterfront dining.
Baltimore County's well-known culinary scene has nothing on the best waterfront restaurants in Baltimore City. Here are 14 of them.
1. Ampersea
1417 Thames Street, Baltimore, MD 21231
Ampersea aims to connect family, friends, and the community by providing a comfortable atmosphere, well-crafted drinks, and locally grown, scratch-cooked meals. They source ingredients for their unique menu from Maryland farms, and turn to craft brewers and local winemakers to provide much of their drink menu.
And of course, the beautiful views round out this waterfront dining experience.
2. Rusty Scupper Restaurant and Bar
402 Key Highway, Baltimore, MD 21230
The magical view, amazing food and attentive staff at the Rusty Scupper make for a perfect meal. Located three levels above the Inner Harbor, you'll find a beautiful view from every table.
The Rusty Scupper is a full-service, contemporary seafood restaurant and bar that serves lunch, dinner and a Sunday live-jazz brunch.
3. Raw and Refined
2723 Lighthouse Point, Suite E, Baltimore, MD 21224
Featuring coastal inspired dishes, craft cocktails, and one of the largest deck bars in the city, this is waterfront dining in Baltimore's Inner Harbor, at it's very best!
Raw and Refined offers a unique menu in a relaxed atmosphere. Think: brunch,  fresh seafood, and an island pool bar. Add live music and stunning harbor views and you have everything you need for a fabulous summer afternoon in Charm City.
4. Tír na nÓg Irish Bar & Grill
201 E. Pratt Street, Baltimore, MD 21202
This modern Irish Pub combines the warmth of a traditional pub with New American cuisine. Tír na nÓg Irish Bar & Grill has created what feels like a small piece of Ireland, right along the Inner Harbor and architectural pieces, furniture, and bric-a-brac salvaged from Irish churches and castles completes the unique atmosphere.
Combine that with their global wine list, craft beer selection, menu heavily accented in Irish tradition, and breathtaking waterfront views, and you have an unforgettable experience.
5. Charleston
1000 Lancaster Street, Baltimore, MD 21202
With cuisine rooted in French fundamentals and the classic cooking of South Carolina, the Charleston has brought fine dining in Baltimore up a notch. The menu focuses on natural preparation of the best products, and is complimented by a selection of house-made breads.
Sip your selection from the 1100+ available wines and finish off your meal with a homemade pastry while enjoying the gorgeous sunset. Waterfront dining in Baltimore, Maryland doesn't get any better than this.
6. Captain James Seafood Palace
2127 Boston Street, Baltimore, MD 21231
Created in the 1970s with the goal of providing quality service to the citizens of Baltimore, this restaurant is shaped like a merchant vessel and offers Chesapeake Bay favorites along with waterfront seating.
With their own Baltimore Water Taxi stop (#14) you can stop at Captain James Seafood Palace while exploring the Inner Harbor by boat, a classic experience for anyone visiting Baltimore.
7. Cindy Lou's Fish House
1215 Wills Street, Baltimore, MD 21231 (Located in the Canopy by Hilton Hotel)
Cindy Lou's Fish House is a breathtaking Baltimore waterfront restaurant inspired by a love for Southern food, flawless service, and joyful libations.
Sip your drink at the wrap-around bar or on an expansive patio and promenade area which is open seven days a week and provides stunning views of the iconic, century-old Domino Sugar refinery as well as much of the Inner Harbor skyscape.
8. The Admiral's Cup
1647 Thames Street, Baltimore, MD 21231
The Admiral's Cup, located in the charming, historic Fell's Point neighborhood, is committed to showcasing local music talent by giving the area's top bands a unique performance space, right on the water.
They are known for their drinks, classic pub fare, lively atmosphere, and of course, music. It may have made the list of Baltimore's waterfront restaurants, but at its core, the Admiral's Cup is still a sports bar featuring daily live performances.
9. Bo Brooks Restaurant
2780 Lighthouse Point, E, Baltimore, MD 21224
Bo Brooks has offered classic Chesapeake Bay cuisine since 1964. This well-known Baltimore waterfront restaurant is located in the beautiful neighborhood of Canton, at Lighthouse Point.
The sunset views from their dockside tiki bar are to die for, and the relaxed harbor atmosphere is perfect for spending a beautiful day outside with friends or family.
10. Azumi
725 Aliceanna Street, Baltimore, MD 21202
Another upscale Baltimore waterfront restaurant with stunning views, the Japanese cooking techniques of Azumi's highly skilled chefs and their creative menu options set it apart from the rest.
Their creativity extends to their drink menu as well. With signature cocktails using Japanese flavors and a masterfully curated selection of sake, it's a safe bet that you'll love all that this unique waterfront restaurant has to offer.
11. Loch Bar
240 International Drive, Baltimore, MD 21202
Featuring one of the region's largest raw bars, Loch Bar is a classic seafood tavern. The sight of Baltimore's Inner Harbor from the Four Seasons Hotel is complemented by one of the most substantial whiskey menus in all of Charm City.
If whisky isn't your thing, you'll enjoy a wide selection of local craft beers and handcrafted cocktails. Loch Bar also features live music from local talent and the menu incorporates seafood dishes that have become synonymous with the Mid-Atlantic region.
12. Nick's Fish House
2600 Insulator Drive, Baltimore, MD 21230
Nick's Fish House is located in the waterfront neighborhood of Port Covington. With offerings that include the freshest seafood, regional specialties, and the "best-steamed crabs in town," the menu serves up something for everyone.
The harborside deck is the perfect spot to enjoy an orange crush, a staple summertime drink in Baltimore, or to bring the whole family in for dinner.
13. Barcocina
1629 Thames Street, Baltimore, MD 21231
Barcocina features Mexican inspired cuisine with fresh ingredients and original twists. With amazing open-air spaces and uninhibited views of the Inner Harbor, Barcocina is the perfect place to eat, drink and socialize.
The glass and aluminum garage door walls open to a panoramic view of the water and each seat, indoor and outdoor, makes the Inner Harbor a part of the dining experience.
14. Cinghiale
822 Lancaster Street, Baltimore, MD 21202
Cinghiale is designed as a gathering place in the center of downtown Baltimore. Inspired by the mid-century energy of Italian cities like Milano and Bologna, Cinghiale boasts a formal Osteria (Dining Room) and an Enoteca (Wine Bar) that offers nearly 50 wines by the glass from a menu that is updated weekly.
Add to this the incredible views of the Inner Harbor and you have a unique waterfront restaurant in Baltimore, perfect for wine and Italian food lovers alike.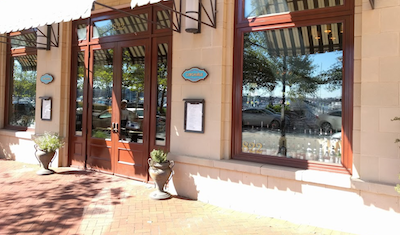 Book Your Stay Near Baltimore Waterfront Restaurants
The Hotel at Arundel Preserve is just a short drive from Charm City and provides easy access to Fells Point, the Inner Harbor, Canton, and all of the waterfront dining Baltimore, MD has to offer.
What could be better than retiring to a luxurious guest room after a day spent exploring the culinary scene along Baltimore's waterways? After a night in one of our perfectly-appointed rooms or suites, you'll wake feeling refreshed and ready to take on more of the Inner Harbor.
Contact us today to learn about our special offers like the Stay More, Save More and Get Away from Home packages, that include special rates and additional benefits.