June 11, 2021
14 Best Waterfront Restaurants in Baltimore, Maryland
As one of the most unique neighborhoods on the East Coast, many visitors are eager to visit the Inner Harbor and dine at one of Baltimore's waterfront restaurants. Whether you're in it for the fresh seafood or the gorgeous views, this dining experience is a must.
If you're planning an upcoming dinner in the city, you won't want to miss these excellent waterfront options. Here are 14 of our favorite Baltimore restaurants on the water. 
Best Baltimore Inner Harbor Restaurants
1. Ampersea
Ampersea aims to connect family, friends and the community by providing a comfortable atmosphere with hand-crafted drinks and meals cooked from scratch. Their unique menu is sourced locally with ingredients from Maryland farms and regionally crafted beers and wines. They're also known for supporting community initiatives. 
Of course, the beautiful views round out this waterfront dining experience. The restaurant has a sophisticated but fun atmosphere with plenty of chic, "Instagrammable" lighting fixtures. While they're best known for seafood, Ampersea also offers American classics like burgers as well as some vegetarian options.
2. Rusty Scupper Restaurant and Bar
With a magical view, amazing food and attentive staff, it's no surprise that the Rusty Scupper is one of our favorite Baltimore Inner Harbor restaurants. The restaurant is located three levels above the Inner Harbor and offers a stunning view from every table. 
The Rusty Scupper is a full-service contemporary seafood restaurant and bar that serves lunch and dinner On Sundays, they offer brunch featuring a live jazz band. It's been a Baltimore favorite for three decades and has a vibe that's upscale without being overly formal or stuffy.
3. Raw and Refined
Featuring coastal-inspired dishes, craft cocktails and one of the largest deck bars in the city, this is waterfront dining in Baltimore's Inner Harbor at its very best! This is a fun and casual dining option in Canton with a lively atmosphere that's sure to get the party started. 
Raw and Refined has a menu full of relaxed seafood favorites like lobster rolls, crabcakes and calamari as well as a cocktail menu fit for a hot summer day. They have four bars on site, including a pool bar and an elevated deck bar with views of the water. Live music adds to the atmosphere and makes this one of Charm City's most exciting hotspots.
4. The Oceanaire
If you're looking for a sophisticated seafood dining experience, it's hard to go wrong with The Oceanaire in the Inner Harbor. This upscale restaurant is known for its elegant nautical theme and giant raw bar. 
This restaurant focuses on fresh, sustainable seafood as well as steakhouse favorites. There's a huge menu of classic dishes to choose from. With a prime waterfront location as well as a delicious menu, this is a popular choice for dinner dates, birthday celebrations and business dinners.
5. Charleston
With cuisine rooted in French fundamentals and the classic cooking of South Carolina, the Charleston has brought fine dining in Baltimore up a notch. The menu focuses on natural preparation using high-quality ingredients, complimented by a selection of house-made bread. They're best known for elegant dishes like foie gras that are hard to find elsewhere in the city. 
Sip your selection from the 1100+ available wines and finish off your meal with a homemade pastry while enjoying the gorgeous sunset in a formal atmosphere. Waterfront dining in Baltimore doesn't get any better than this.
6. Captain James Seafood Palace
For a more casual seafood environment, head over to Captain James Seafood Palace. Created in the 1970s with the goal of providing quality service to the citizens of Baltimore, this restaurant is shaped like a merchant's vessel and offers Chesapeake Bay favorites along with waterfront seating.
This restaurant even has its own water taxi stop, making it easy to get here from downtown. The menu offers everything from salads to soups to pasta, and of course, plenty of seafood dishes and raw bar options. There's even a kid's menu for the little ones.
7. Cindy Lou's Fish House
Cindy Lou's Fish House is a breathtaking Baltimore waterfront restaurant inspired by a love for Southern food, flawless service and joyful libations. The sophisticated yet comforting menu offers everything from catfish to fried chicken to strip steak as well as a variety of classic Southern sides.  
Sip your drink at the wrap-around bar or on an expansive patio and promenade area, both of which offer panoramic views of the iconic, century-old Domino Sugar refinery as well as much of the Inner Harbor skyscape. The atmosphere is modern and sophisticated, perfect for a date or catching up with friends.
8. The Admiral's Cup
The Admiral's Cup, located in the charming, historic Fell's Point neighborhood, is committed to showcasing local music talent by giving the area's top bands a unique performance space, right on the water. The venue has a casual atmosphere that encourages you to come as you are. 
They are known for their drinks, lively atmosphere and of course, music. It may have made the list of Baltimore's waterfront restaurants, but at its core, the Admiral's Cup is still a sports bar featuring daily live performances. However, they also offer a tasty menu of pub classics like tots and wings, as well as heartier seafood fare.
9. Rec Pier Chop House
If you're looking for Italian-inspired fare on Baltimore's waterfront, it's hard to go wrong with Rec Pier Chop House. The restaurant's stunning decor is sure to take your breath away, and they offer an elevated menu featuring a variety of steak cuts, kinds of pasta and more. 
This stylish and elegant spot is the perfect place to see and be seen in the trendy Fell's Point neighborhood. In addition to their stunning decor inside, they also have a cozy outdoor patio with a fireplace, which is the perfect place to sip on one of their classic Italian-inspired cocktails.
10. Azumi
Another upscale Baltimore waterfront restaurant with stunning views, the Japanese cooking techniques of Azumi's highly skilled chefs and their creative menu options set it apart from the rest. Guests will enjoy fresh sushi and other Japanese classics while dining in the sleek, upscale dining room or out on the spacious waterfront patio. 
Their creativity extends to their drink menu as well. With signature cocktails using Japanese flavors and a masterfully curated selection of sake, it's a safe bet that you'll love all that this unique waterfront restaurant has to offer.
11. Loch Bar
Located in the Four Seasons hotel, Loch Bar is a classic seafood tavern and another one of our favorite Baltimore Inner Harbor restaurants. In addition to gorgeous views of the water and the surrounding area, you'll also enjoy one of the most substantial whiskey menus in all of Charm City.
If whiskey isn't your thing, you'll enjoy a wide selection of local craft beers and handcrafted cocktails to drink. Loch Bar also features live music from local talent and the menu incorporates fresh seafood dishes that have become synonymous with the Mid-Atlantic region. This restaurant is stylish but not too fancy, making it ideal for a delicious lunch date or a fun group dinner on the water.
12. Nick's Fish House
Nick's Fish House is located in the waterfront neighborhood of Port Covington. With offerings that include the freshest seafood, regional specialties and the "best-steamed crabs in town," the menu serves up something for everyone.
This restaurant is a casual waterfront classic and is a great option if you're looking to venture outside of downtown for a meal. The harborside deck is the perfect spot to enjoy an orange crush, a staple summertime drink in Baltimore, or to bring the whole family in for dinner. Be sure to check out their live music schedule to see upcoming events.
13. Locust Point Steamers
This casual seafood joint is a Baltimore classic and is perfect for a hearty lunch or dinner. They're best known for steamed crabs, but also offer a variety of other simple yet delicious seafood options. 
Be sure to check out Locust Point Steamers' rotating seafood specials during your visit to enjoy the freshest catches. When the weather's warm, head up to their third-floor rooftop deck for panoramic views of the area.
14. Cinghiale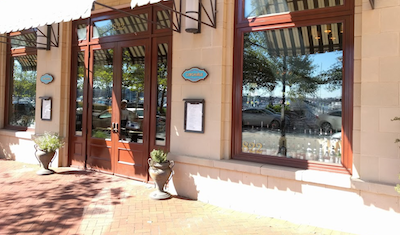 Cinghiale is designed as a gathering place in the center of downtown Baltimore. Inspired by the mid-century energy of Italian cities like Milan and Bologna, Cinghiale boasts a formal Osteria (dining room) as well as an Enoteca (wine bar) that offers nearly 50 wines by the glass from a menu that is updated weekly.
Be sure to try their handmade pasta as well as fresh antipasto and of course, some locally sourced seafood favorites. This restaurant is an elegant choice for any special dinner out. Add to this the incredible views of the Inner Harbor and you have a unique waterfront restaurant in Baltimore, perfect for wine and Italian food lovers alike.
Book Your Stay Near Baltimore Waterfront Restaurants
The Hotel at Arundel Preserve is just a short drive from Charm City and provides easy access to Fells Point, the Inner Harbor, Canton and all the amazing Baltimore restaurants on the water. 
What could be better than retiring to a luxurious guest room after a day spent exploring the culinary scene along Baltimore's waterways? After a night in one of our perfectly-appointed rooms or suites, you'll wake feeling refreshed and ready to take on more of the Inner Harbor. We also have some delicious on-site dining options of our own. 
Contact us today to learn about our special offers like the Dinner and a Movie package, which is perfect for a date night. Enjoy a dinner voucher, a complimentary bottle of wine, movie passes and late checkout as part of our weekend getaway.