November 28, 2020
8 Staycation Ideas Near Baltimore, MD
Have a long weekend coming up and no travel plans? A staycation in Baltimore may be exactly what you need! Enjoy the sights and sounds of the places you may not have visited in a while. Let the familiar become new to you again as you see everything through the eyes of a first-time visitor.
How to Plan a Staycation in Maryland
First, you may be wondering, "What is a staycation?" Basically, instead of traveling to a far-off destination for a vacation, you stay at home and find activities within driving distance. Alternatively, you could rent a hotel room in a central location to explore attractions across your state.
The first step to planning a staycation is to identify what you enjoy doing. Whether it's outdoor activities, exploring historical sites, enjoying local cuisine, or simply relaxing, knowing your preferences will help guide your staycation plans. 
Maryland is rich in history and natural beauty. Consider visiting attractions like the National Harbor, the historic city of Annapolis, or the beautiful beaches of Ocean City. If you're a nature lover, parks like the Catoctin Mountain Park or the Chesapeake & Ohio Canal National Historical Park offer great hiking and picnic spots.Things to Do On Your Staycation
Open on Sundays from 7:00 AM – 12:00 PM, this is Maryland's largest producer-only market. The Baltimore Farmers' Market and Bazaar has a variety of offerings, such as bath and body products, fashion accessories, souvenirs, and original works of art. And, of course, you'll find fresh, local produce, dairy, meats, and baked goods. Take a look at the list of vendors and market map to start planning your visit to this absolute "must-do" for locals and visitors alike.
You'll find history, food, entertainment, and more at the Inner Harbor in the heart of downtown Baltimore. Once the home of shipbuilding and steel mills, the area has become one of Baltimore's most popular landmarks. Start with a trip to the Maryland Science Center or National Aquarium, then catch a water taxi to one of the area's delicious dining options before strolling around the historic ships docked in the Harbor for your viewing pleasure.
Parks and Trails
Any outdoor staycation idea is a welcome one! Stretch your legs, breathe that fresh air, and enjoy the scenery. Simply exploring the parks and trails in and around Baltimore could keep you busy for weeks. Enjoy some of the best aircraft views in the area while walking or biking the BWI Trail, which makes an 11-mile loop around Baltimore-Washington International Airport. The Baltimore and Annapolis trail (B&A) covers much of Anne Arundel County, with a portion of the paved path weaving through developed areas where you can stop for a quick bite along your route. And if that's not enough, there are plenty more parks and trails to explore and enjoy during your staycation!
Famous for its beautiful display of native plants, rare trees, and flowering shrubs (along with over 80,000 tulips in the spring!), Sherwood Gardens provides another fantastic outdoor staycation idea for the whole family. Free to enter and open year-round, you won't want to miss this beautiful attraction.
If you're looking for a more active staycation idea in Maryland, Terrapin Adventures is the place for you! Adventure challenges include ropes courses, zip lines, rock climbing, and archery – just to name a few. They've got courses designed for participants of all ages, making this a perfect adventure for the whole family during your staycation in Baltimore.
Kick back with the sun on your face, sip a beer or two, play lawn games, and enjoy a delicious meal at Guinness Open Gate Brewery. This experimental brewery combines over 260 years of Irish brewing experience with American beer.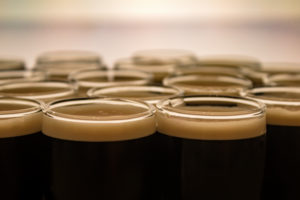 Arundel Mills Mall
Arundel Mills is the largest outlet and retail mall in Maryland. It boasts more than 200 stores in addition to several dining and entertainment options, making it a great indoor staycation idea. Check out a map of the mall before you head over, and don't forget to visit their website for a comprehensive list of current COVID-19 safety protocols.
Dave & Buster's
Located inside Arundel Mills Mall, Dave & Buster's is a popular area attraction. Of course there are the arcade-style games Dave & Buster's is known for, but you'll also find massive screens to watch your favorite team, pool tables, bowling alleys, virtual reality games, as well as dining options.
Not the outdoorsy type? Arundel Mills is the largest outlet and retail mall in Maryland. It has over 200 stores and is a great indoor staycation. Check out a map of the mall before you head over to the most out of your visit.
Step into a world of clandestine communication and uncover the intriguing history of cryptanalysis. From the enigma machine to early cryptographic devices, the museum showcases a remarkable collection of artifacts that tell the stories behind secret intelligence operations. Immerse yourself in the interactive exhibits, decipher puzzles, and gain insight into cryptologists' vital role in safeguarding national security. 
Book Your Room at The Hotel at Arundel Preserve for Your Staycation
The Hotel at Arundel Preserve is the perfect home base for your Baltimore adventure, and our "Get Away From Home" package is one of our favorite hotel staycation ideas! You'll receive 10% off regular room rates, breakfast at Bagels 'n Grinds (located just outside our front door), plus early check-in and late check-out so you can relax for as long as you'd like.
Our convenient location, just outside Baltimore proper, lets you go from lounging in your luxurious guest room to getting your Baltimore adventure on in minutes. Book your staycation today and experience all that Baltimore and The Hotel at Arundel Preserve have to offer!